Edit Display Style
Manages a range of options to change the display of the product detail page. Each option will control the layout and how certain features are displayed. E.g. how and where the reviews are placed, where the main image and title are located...
Image Gallery Style
Controls the options available for displaying your product images. E.g. INSTANT ZOOM feature, horizontal scrolling, flash thumbnails and more.
Product Thumbnail
Sets the thumbnail image dimensions
Use Add to cart button image
Edit or upload the large add to cart button for all your product detail pages.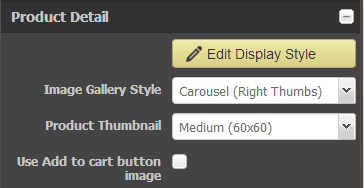 Product Detail Page