From the "My Plan" section, manage both your monthly or yearly store plan and any add on features such as email accounts, extra modules/apps like fraud detection and B2B selling.

My Plan

The left column manages your plan selection. You can upgrade and downgrade at any time it suits you, the switch is instant. The current plan you are on is marked in bold, to switch, simply click the "switch to..." link next to the appropriate plan you would like to be on.
At this stage you will be given a summary of any charges incurred or changes required by you and to accept the terms and conditions.


Addons / Features
The right hand column manages any additional features/apps which are potentially separate from the plan you are on. For example, you can add or remove email accounts, the B2B, Affiliate or Blog module, add fraud detection to orders and add another user to livehelp.
Simply click the small plus or minus symbols next to each feature and you will be presented with the new monthly fee, any additional charges and our terms and conditions..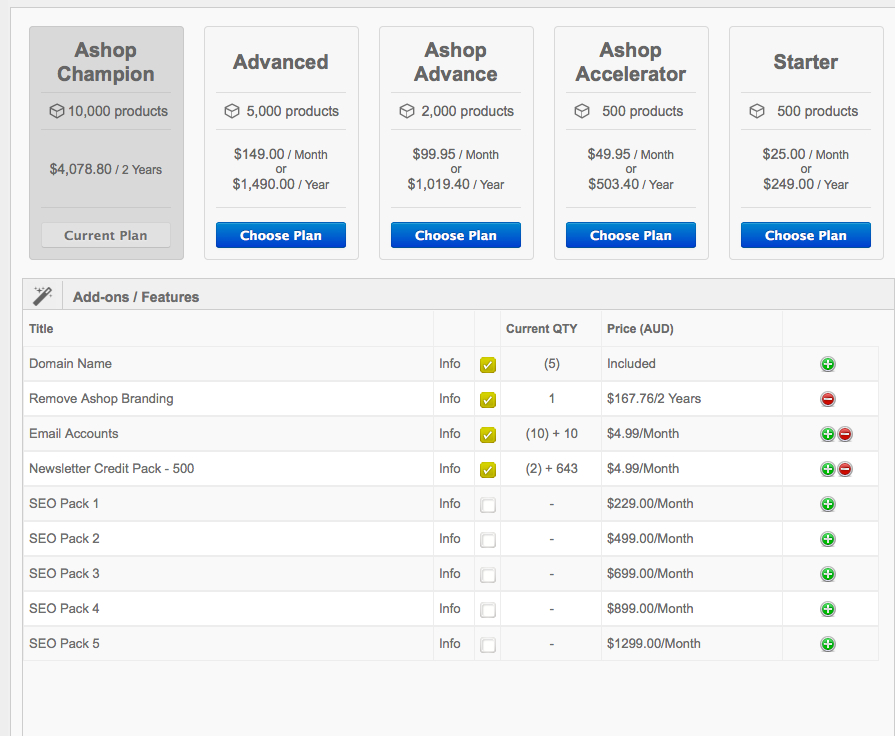 My Account page. Add/remove features and switch plans anytime
From this page you will also be able to close your account manually via the link called "Close Store". This will only close your store once your billing cycle is complete. You must confirm the closure by clicking ok after you are displayed your closing date. Please feel free to verify this with a support agent if you are unsure if it has worked. We will not provide refunds.